7 Reasons Why Marlow is the Best Pillow for Stomach Sleepers
Come face-to-face with a bit of pillow perfection.
Better Adjustability
Getting the right amount of fluff as a stomach sleeper can be a bit of a bear. To simplify, we added a zipper to each side for easy and quick adjustability.
Super Support
Our proprietary fill of 80/20 memory foam and polyester fiber allows for a supportive yet comfortable feel while you spend your nights sleeping stomach-first.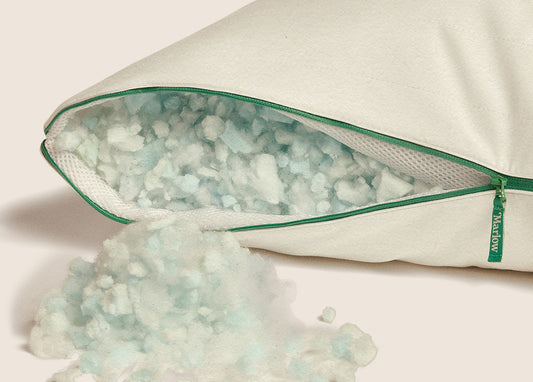 Cool Inside and Out
Our pillows use cooling-infused memory foam to help stomach sleepers cool off and maintain a stable body temperature all night.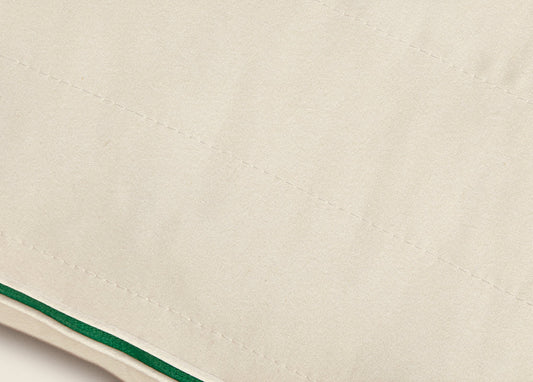 A New Nightguard
Sweat, grime, and drool are common culprits of dirtying up your pillow. Marlow is made with an antimicrobial shell to ward off anything and everything that's an unwanted guest.
Hear From Our Friends
Stomach sleepers worldwide are falling in love with the Marlow Pillow. Check out our review section to see all the good things they're saying.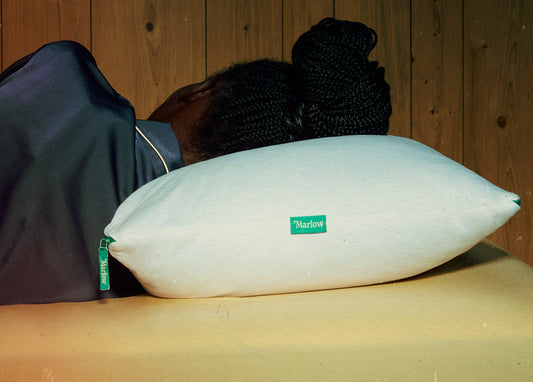 Winner, Winner
We would hang our stomach sleeper awards from Sleep Foundation, Forbes, and Domino on the fridge if we had one.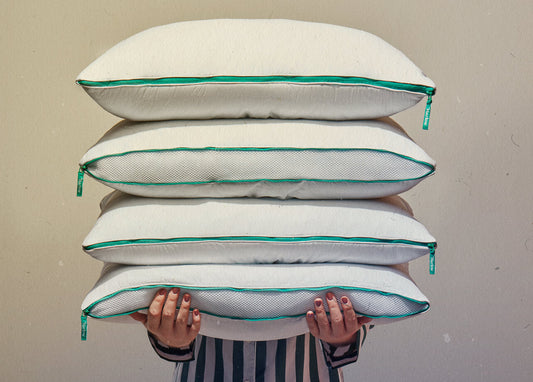 From the Makers of Brooklinen
For eight years, Brooklinen founders surveyed, studied, and prototyped the perfect pillow. Marlow features Brooklinen's best-in-class customer service, high-quality products, and trustworthy risk-free warranty because you know what they say about things that aren't broken.
Have you heard? We're awesome.
The perfect pillow!

"I am a back/side/ stomach sleeper all in one & I have been on the hunt for the perfect pillow forever & I finally found it! Have had for about a month and I'm sleeping so much better. I just unzip one side and it's comfy all around. No achy joints in the AM. Can already tell there won't be any clumping happening anytime soon. Made so very well."

_

Miguel L.

Back, Side, Stomach Sleeper

BEST PILLOWS I HAVE EVER PURCHASED.

"I'm not normally one to leave reviews or get sold by the Instagram ad, but these pillows are game changers. I didn't realize how much a pillow could contribute to good sleep. They stay cool and they just feel luxury. I liked them so much that I placed 2 more orders for my mom and dad. Both are as impressed as I am. "If I had known, I would have purchased them sooner." Do yourself a favor… toss your old pillows and purchase these. I guess do me a favor too, and purchase them so that we can make sure the Marlow Pillow is manufactured for the next 50 years as that is how long I plan to be a loyal customer. Thanks to this company for making such a great product!"

_

Grace M

Back Sleeper

Will purchase these for the rest of my life.

"I bought 4 and they are magic. If you want the pillow softer you just unzip the side and it expands into the most wonderful marshmallow you have ever slept on. I bought the four for my bed and two escaped to my son's bed. He won't give them back so I will be ordering more."

_

Brandy D.

Side Sleeper